Taking care of your oral health is crucial for your overall well-being, and finding a reliable dentist in your area plays a significant role in achieving that goal. 
With numerous dental professionals to choose from, you may be wondering, "What is the best way of finding a good dentist in my area?" Look no further, as this blog post will help you find the perfect dental professional. 
By the end of this article, you'll have a clear roadmap to finding a top-notch dental professional in your neighborhood. But, if you're in the Akron, OH area, you can stop your search here because Peak Dental Arts is the best dentist in Uniontown, Ohio.
So, let's dive in and explore the best strategies for locating a good dentist near you.
Determine Your Dental Requirements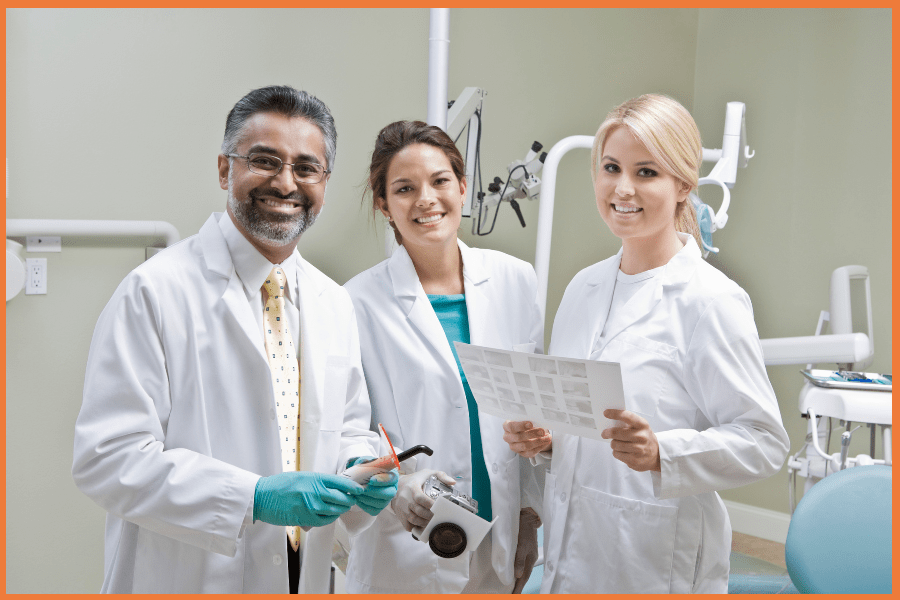 Are you looking for routine dental care, or do you have a particular issue that requires specialized attention? 
Once you have identified your dental problem, you can narrow your search and find the perfect dentist to address your oral health requirements.
To help you decide, let's take a closer look at the various types of dental specialists and the services they offer:
Family Dentistry: Ideal for All Ages
Family dentistry caters to patients of all ages, making it perfect for individuals and families seeking a one-stop solution for their oral health needs. Family dentists can address most common dental concerns, from routine check-ups and cleanings to fillings and simple extractions.
Orthodontics: Straightening Your Smile
Orthodontists specialize in correcting misaligned teeth and jaw problems. An orthodontist is the right choice if you or a family member needs braces, Invisalign, or other treatments to achieve a straighter, healthier smile.
Periodontics: Protecting Your Gums
Periodontists focus on preventing, diagnosing, and treating gum-related issues, including gum disease and dental implants. Thus, consider visiting a periodontist if you're experiencing gum problems, bleeding, or discomfort.
Endodontics: Saving Your Teeth
Endodontists are experts in root canal therapy and preserving the health of your teeth's internal structures. If you have severe tooth pain, sensitivity, or a cracked tooth, an endodontist can help save your tooth and alleviate discomfort.
Seek Recommendations and Referrals
Friends, family members, and coworkers can offer invaluable insights into their personal experiences with dental professionals. Don't hesitate to inquire about their satisfaction with the care received, the dentist's demeanor, and the overall atmosphere of the office.
Moreover, social media platforms such as Facebook, Twitter, and Instagram are excellent resources for gathering information and recommendations. 
Finally, your primary care physician can be a reliable source for suggesting a good dentist. They often have a network of trusted colleagues across various fields, including dentistry, and can guide you in the right direction based on your unique needs.
Leverage the Power of Online Reviews
Online reviews offer insights into the experiences of previous patients, giving you a better understanding of a dentist's quality of care, professionalism, and office environment. 
Consider using these trustworthy review platforms: 
Google Reviews
Google Reviews is a popular and easily accessible platform for finding honest feedback about dental professionals. You can view ratings and read comments from patients who have visited the dentist's office.
Yelp
Yelp gives you insights into various aspects of a dental practice, such as the quality of care, wait times, and customer service. Yelp's filtering algorithm can help you find the most relevant and useful reviews.
Healthgrades
Healthgrades is a dedicated healthcare review platform that provides information on dentists' education, credentials, and patient reviews. It's an excellent resource to learn more about a dentist's background and their patients' experiences.
Confirm Credentials and Experience for Peace of Mind
Before settling on a dentist, verify their dental license to ensure they're authorized to practice in your state. You can typically find this information by visiting your state's dental board website. This resource can also provide additional details about the dentist, such as any disciplinary actions or complaints filed against them.
While education and training are vital, hands-on experience plays a significant role in the quality of dental care provided. A dentist with several years of experience has likely encountered diverse dental issues and honed their skills to address these challenges effectively. Therefore, consider a dentist's experience in the field and how long they've been practicing, as this can be a strong indicator of their ability to meet your dental needs.
Factor in Office Location and Accessibility for Convenience
Ideally, you'll want a dental practice close to your home or workplace, making it easier to attend appointments and manage your busy schedule. In addition, proximity to your daily routine reduces travel time and increases the likelihood that you'll maintain regular dental check-ups.
Accessibility is another crucial aspect to consider when selecting a dentist. If you rely on public transportation, check whether the dental office is located near bus or train stops. Alternatively, if you drive, verify if the office provides ample parking facilities or if there's nearby street parking. 
Lastly, dental practices with flexible office hours can better accommodate your schedule, making booking appointments easier. Thus, look for dentists who offer early morning, evening, weekend, or same-day dental appointments to ensure you can receive dental care without disrupting your daily routine. 
Take the Time to Schedule a Consultation
Scheduling a consultation with a potential dentist is an excellent way to gauge if they're the right fit for you. Face-to-face interaction allows you to ask questions, discuss your concerns, and better understand their approach to dental care. 
A consultation with a potential dentist also gives you an idea about the following factors: 
Office cleanliness and organization:

A well-maintained and clean environment is essential for maintaining high standards of hygiene and ensuring patient safety.

Modern equipment and technology:

Up-to-date tools and techniques can lead to more efficient and accurate treatments, improving your overall dental care experience.

Staff courtesy and professionalism:

Courteous, friendly, and professional staff can make your dental visits more enjoyable and help you feel at ease during your appointments.

Responsiveness and communication:

A responsive and communicative staff is essential for creating a positive patient experience and fostering a trusting relationship between you and your dental care providers.
Evaluate Insurance and Payment Options for Financial Ease
Consider the following factors so you can manage the costs of your dental care: 
Verifying insurance acceptance:

Confirm that the dentist accepts your

dental insurance

to utilize your benefits and minimize out-of-pocket expenses fully.

Payment plans and financing options:

Inquire about flexible payment arrangements, especially for costly procedures not covered by insurance or if you don't have dental insurance.

Comparing fees for standard procedures:

Compare fees among dental practices in your area to find quality care at a reasonable price, but remember to balance cost with the quality of care provided.
Choose the Right Dentist and Prioritize Your Dental Health
Researching and finding the right dentist ensures you receive the best care for your needs. Remember the factors discussed in this article to make an informed decision.
If you're ready to take the next step towards exceptional dental care, request an appointment with Peak Dental Arts today.